Ayurvedic Herbal Calcium Tablets and Syrups For PCD Franchise –  Vee Remedies offers best quality Calcium Supplements madde form 100% pure herbs and ayurvedic formulations. Our product will help you overcome Calcium Deficiency and increase calcium absorption by the body. We are inviting pharma people across India to become part of Ayurvedic Herbal Calcium Tablets and Syrups for PCD Franchise in India. Our range includes ISO GMP manufactured calcium syrups, capsules and tablets made under strict quality control in accordance to AYUSH Ministry. You can invest in us for a better business opportunity near you.
Demand for calcium drugs is increasing with the need for stronger bones and joints. This mineral deficiency can cause a number of ailments like brittle teeth, numbness, cramps, easy fractures etc. Vee Remedies brings you reliable quality ayurvedic herbal calcium tablets and syrups for PCD Franchise in your desired location. Our associates of pharma franchise get to enjoy monopoly rights, vast business location, affordable pricing, quick delivery etc. It is our assurance that our members will get the best in the market.
Scope for the ayurvedic Medicine Franchise
People are prone to utilize ayurvedic medications from the times immemorial. Attributable to its having no reactions nature this prescription has gotten a favourite place from child to old people. More and more folks are inclining towards the ayurvedic products that are bringing the ayurvedic medication category to the peak place of the pharmaceutical sector. Our company Vee Remedies providing the services of ayurvedic product range products. Our company is doing its efforts to complete the unmet demands of the ayurvedic products.
100% Natural Calcium Medicine for Pharma Franchise
As I told earlier there is a huge scope of ayurvedic medications in the future, but choosing the genuine and supreme quality product company is the trickiest thing to do. Therefore, Vee Remedies came into existence for providing outstanding herbal services. Our company Vee Remedies, holds many years' experience in the ayurvedic franchise business.
Our association is an ISO certified company that ensures this thing that the production is taking place under the GMP and Scheduel M certified units. In the terms of investment for our pharma franchise dealers, we keep it straight forward and genuine, so that the dealers can get the full transparency in the dealings and the pharma investment as well. Vee Remedies has taken a top-notch place in providing high-quality ayurvedic medications. By having an ayurvedic product range in your pharma franchise business, you will only get a profitable business but a sustainable one too.
Have a look at our two most famous Ayurvedic products with their benefits:
Osfic Tablets: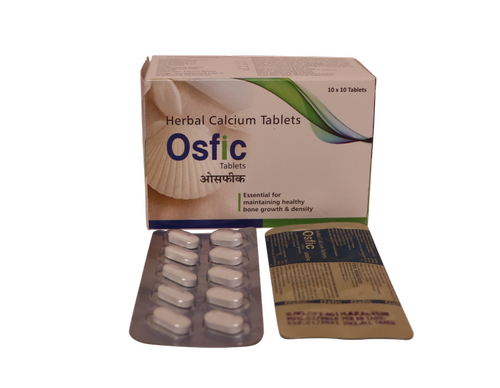 Osfic is the fusion of calcium-rich source minerals that helps in diverse kinds of body activities such as the proper functioning of nerve, muscle, cells, and bones. On top of it, it also helps in bone formation that helps in improving bone mineral density. By having the functioning of proper bone formation, our bones get extreme relief from the random joint pains and hold the anti-inflammatory property.
Calcium is the principal requirement of the body that is absorbed by the skin, body, and other inner parts of the body. Calcium works as a protector also for our body to prevent it from different kinds of maladies like cancer, high blood pressure, and diabetes.
2. Osfic forte Natural Iron and calcium syrup:
The second is the most demanding natural iron and calcium syrup. The combination of both these gives the high dose of nutrients that our body in a dire manner. If we talk about calcium then, it is the kind of mineral that is necessary for our whole life. On the one side calcium aids in building strong bones and on the other side, it also helps in other body's essential activities' like a muscle to contract, blood to clot, and helps our heart to beat. Our bones and teeth are 99% made by the calcium, you can get an idea, how much importance it takes place for our body. The second one is Iron that is the essential mineral that helps in the proper functioning of hemoglobin. Hemoglobin is a protein kind that aids in transferring oxygen in the body
Note: Don't take much calcium since it can harm too when taken in the excess. Always consult your doctor before taking calcium supplements.