Veterinary Products Franchise Company in Chandigarh – Veterinary products have gained importance in the treatment of numerous diseases growing in animals. With the increase in the awareness towards healthcare and well-being of pets and the introduction of animal immunization policies by government, Vee Remedies has also become the part of development. The company is providing a wide variety of veterinary product franchise in Chandigarh, Mohali, and Panchkula. Being authorized and licensed Veterinary Products Franchise Company in Chandigarh the vet products of the company are highly recommended by doctors and pharma professionals.
Vee Remedies has evolved as the best in the medicinal industry. We are indulged in the business of manufacturing, marketing and supplying of the purest and effective range of medicines. The prime objective of our company is to provide a healthy life for pets and animals through our safe range of medicines. Being recognized as the top Veterinary Products Franchise Company in Chandigarh we have taken a responsibility to provide the best pharma formulations. Association with our company for the range of veterinary products will give you the chance to earn a good profit return.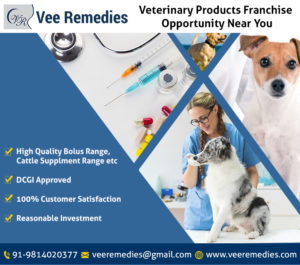 We are providing genuine and affordable business deals to all the aspirants who are willing to evolve their business. For any further details about our company or its franchise services get in touch with our team of experts by dialing  9814020377. You can also mail us at veeremedies@gmail.com. Our team is always available to respond to your queries as soon as possible. 
The Demand for Veterinary Medicine in Chandigarh 
As per the recent data launches, the global veterinary drug market is assumed to flourish significantly at a CAGR of 6.8% over the forecast period during 2016-2023. Further the market of veterinary drug market estimated to valued at USD 25.3 billion in 2015 and in 2013 it is estimated to garner USD 49.8 billion.
With research and development, many market players have brought antibiotics and amino acids in order to minimize the attack of harmful virus and bacterial parasites in animals. Introduction of effective veterinary drugs, increasing clinical animal researches to treat diseases and other disorders are increasing the demand for veterinary products globally.
The government is taking initiative and investing in R&D to bring more effective and safe veterinary drugs with fewer side effects. When we talk about Chandigarh then this city is known as the hub of pharma industries. Therefore commencing your veterinary products franchise business in Chandigarh will prove quite beneficial to you.  
Veterinary PCD  Franchise – A Profitable Business for Investors 
As we have above discussed that veterinary products have a huge market demand and this is one the major reason that can drive an investor to invest. On the other hands joining hands with the right veterinary franchise company is another important thing for your profitable venture. Well, fortunately, Vee Remedies fulfills all your needs and requirements regarding the veterinary pharma franchise business.
The company believes in the mutual benefit of both associates and the company itself after all our growth is linked with you. Our organization provides you the complete support throughout the business so that you can easily make your presence in the competitive pharma marketing. Moreover shaking hands with the company who is ready to confront all the challenges of the market gives you an upper hand in the pharma industry. 
Below are some points mentioned that gives you soo many reasons to invest in the veterinary PCD franchise:
Bonafide Investment
No work pressure
Good profit margin
Enjoy monopoly rights
Quality Norms and Guidelines Followed 
Vee Remedies is engaged in delivering quality animal products so that the pets and animals get the best health care services. We follow the various quality norms and guidelines set by the Indian pharma association in the following way:
The separate quality control experts are appointed by us. 
The company process is examined right from the collection of raw material to dispatching. 
Our premise is equipped with a vast warehouse where a large number of products are stored at room temperature.
The company ensures the best quality assurance tests are adopted to deliver fine quality drug formulations.  
The cost-effective production method is adopted by us. 
Vee Remedies – Top Veterinary PCD Company in Chandigarh
The people are searching for better quality formulations not only for themselves but also for their pets, animals, etc. Vee Remedies is one of the most prominent and trusted veterinary companies in India. The company is well known for its high-quality animal products. The veterinary range covered by us is veterinary injections, multivitamin animal supplements, cattle feed supplements, calcium supplements, animal liver tonic, anti-parasite range, etc. We have become the choice of thousands of people because of the outsourcing franchise services that we are providing: 
The company provides its associates with the best marketing and promotional assistance. 
Quality assured products are delivered by the organization. 
Huge Distribution Channel is present within the company that provides huge market area for earning profits at affordable prices. 
We commit to providing quick delivery of all products.
Sophisticated packaging material is applied to the products for their longer life. 
If you wish to know more you can directly walk-in or call us or drop us a mail
Contact Information
Name: Vee Remedies
Address: Palam Enclave, Behind Ranjan Plaza
Zirakpur- 140603, Punjab, India.
Phone No: 9814020377
Email Id: veeremedies@gmail.com