Veterinary Franchise Company in Delhi – Animal medicines have good scope for PCD pharma franchise on monopoly basis. Vee Remedies is a popular Veterinary Franchise Company in Delhi to deal in a variety of veterinary drug medicines and products range. Our medicines are DCGI approved followed by high-end manufacturing solutions. We invite people across north India to join us as associates through PCD Pharma Franchise for Veterinary Range in Delhi. Our company assures you safe, effective and quality range at best rates. 

The demand for veterinary medicine in Delhi is increasing rapidly. Delhi is being considered as the most polluted city and due to this both humans and a+nimals are suffering in many terms. Further, the plastics thrown by the people on roads is very dangerous for animal health. Therefore many companies like Vee Remedies have taken measures to improve animal health through the PCD pharma franchise business. If you are a business seeker then invest in Veterinary Franchise Company in Delhi and give new life to the animals who are suffering from poor health.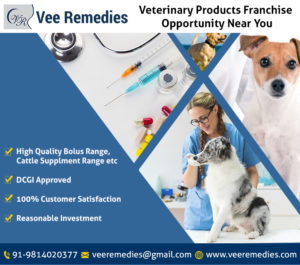 Know more in detail about our company and its veterinary PCD franchise services. Vee Remedies is providing veterinary products at the best rates. Get in touch with us by giving us a call at 9814020377 or you can also mail us at veeremedies@gmail.com. Our team of members will be happy to serve you with the best franchise facilities. 
High Demand for Veterinary Medicines
As per the report the Global Veterinary Healthcare Market is expected for $27.42 billion in 2017 and is anticipated to reach $60.54 billion by 2026. The veterinary market is growing at a CAGR of 9.2% during the forecast period. The factors that have to drive the veterinary market growth are the growing awareness about animal health, technological advancement in animal healthcare and increasing Zoonotic diseases. These factors are leading to higher demand for better quality veterinary medicines.
Veterinary Medicines Franchise Business in Delhi
Veterinary Healthcare has become an important healthcare segment in the pharmaceutical industry. Therapeutics segment is expected to grow during the forecast period. For the animal's growth the amino acids, minerals, and vitamins are important diet. Numerous people in Delhi are pet holders who are looking for good food for their pets with no side effects and chemicals. Also, they are ready to pay for veterinary care and thus this increases the demand for supplements and other treatment choices for animals at large. 
This states that if you are starting your own Veterinary PCD Franchise in Delhi then definitely you will have good business exposure. The PCD pharma franchise opportunity is open for all the pharma experts, wholesalers, stockiest, retailers, market representatives, entrepreneurs, etc. With an innovative approach, we all should take a measure to improve the health conditions of animals. The Veterinary PCD franchise in Delhi is a great way to make available the veterinary medicines in all the locations of Delhi. 
Veterinary PCD Company in Delhi – Vee Remedies
The business of Veterinary Products Franchise is quite profitable as the demand for the products is growing in Delhi region. And also the PCD franchise is giving a good business deal to the career seekers. If you have big goals and wants to work independently in your preferred region then opt PCD pharma franchise by Vee Remedies. As we know that there are various pharma segments but go for veterinary as it can only give you a good business as mentioned above. 
Below mentioned are some of the benefits of opting Veterinary Range Franchise in Delhi:
Enjoy Monopoly Rights: The PCD pharma franchise model allows you to have your business in your preferred region. Reduce competition and increase sales. 
Less Investment – You can start your PCD pharma franchise venture with less investment i.e, around 35,000-40,000. 
No-Risk – No or minimum risk is involved in this business as the company you are associated with is always standing by your side as a supporter. 
Wide Range of Products – By investing in the company like Vee Remedies you get the chance to deal in a wide range of animal care products and medicines. 
Good Growth Opportunity – PCD Pharma Franchise opportunity offers you a high prospect for future growth with the modernization and greater awareness among the masses for various issues.
Ample of Veterinary Products Offered At Vee Remedies 
With our customer-centric approach, we are engaged in dealing with a wide range of veterinary medicines. The company makes sure that quality products are only delivered from our end. Our animal medicines are made by using world-class infrastructure and advanced technology. More than 1000 veterinary products are provided us for veterinary PCD franchise in Delhi. 
Ivermectin
Vitamin-A+D+E+H
Liver Tonic 
Ceftriaxone 3GM
Appetite and Digestive Bolus
Chelated Mineral Mixture
Oral Ionic Calcium Gel
Meloxicam+Paracetamol
Vit-A+D3+E+H+C+B12 With Selenium
Metho Chelated 
Promotional Support for Animal Medicine Franchise in Delhi 
Vee Remedies is a marketing-based veterinary pharmaceutical company with its main aim to make available the quality veterinary medicines across Pan India. Being one of the fastest-growing pharma company, we are providing the best promotional support to our associates. We very well know that no new or old business can run profitably without advertisement. Therefore impressive and best promotional tools are offered by us. Moreover, the marketing support is also provided to the franchise partners which helps them to make good connections with the reputed names in the industry. 
Promotional inputs offered by us are: 
Calendars
Dairies
Visual Aid
Brochures
Written Pads
MR Bags
Reminder Cards
Samples
Catch Covers etc. 
Contact Information
Name: Vee Remedies
Address: Palam Enclave, Behind Ranjan Plaza
Zirakpur- 140603, Punjab, India.
Phone No: 9814020377
Email Id: veeremedies@gmail.com