Top Ayurvedic Medicines to Treat Type 2 Diabetes – Ayurvedic is one such branch of medical science that approaches any disease holistically, and diabetes isn't an exception. Diabetes is characterized by a chronic metabolic disorder in which the body is unable to adequately utilize glucose, which results in hyperglycemia and hypoglycemia. Treating it from the root isn't possible but managing it by using Top Ayurvedic Medicines to Treat Type 2 Diabetes is possible.
In today's blog, we are here with the Top Ayurvedic Medicines to Treat Type 2 Diabetes that will provide a solution to all the problems that one might be having regarding diabetes. In Ayurveda, it is known as madhumeha/prameha which is characterized by urine that tastes and smells like honey. As per Ayurveda every problem or disease is caused due to an imbalance among the three doshashes i.e, Vata, pitta, and Kapha. 
Best Medicines For Treating Type 2 Diabetes In India
The Indian market is full of products that showcase themselves as the best pharma products for treating diabetes but the reality comes out to be different as they don't show proper results from their usage. The ayurvedic and herbal range of products is having a wide scope nowadays which has increased its usage more. Have a look at the top herbal products which are referred to as the best products for managing type 2 diabetes.
1 DIABDON Juice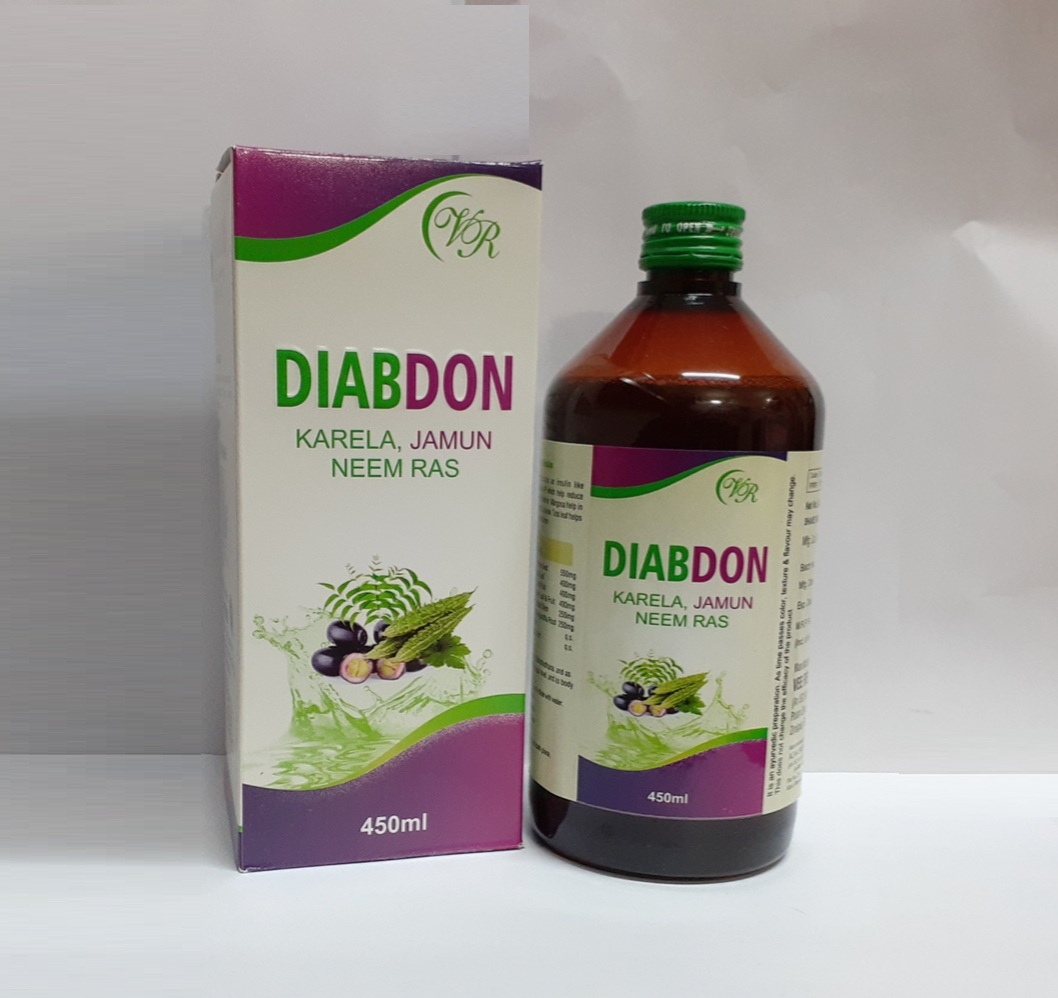 Composition: Neem, Karela, Jamun
It is one of the most widely used products made available in juice form that is being prescribed by many pharma experts all around the world. It is a very well-formulated combination of different herbal and natural ingredients such as neem, karela, Jamun. Karela is referred to as one of the best remedies for treating the problem of sugar, and diabetes. They also help to cleanse the liver so that the excess toxins can be removed from the body easily. Jamun on the other hand is capable of preventing any kind of possible liver disease that may be there due to the foodstuff that the individual may be eating.
2 DIABDON Capsules 
The same juice given above is also being offered in capsule form so that one who might be having diabetes can take it very conveniently. Proper health is maintained in the individual who might be suffering from diabetes and it also makes sure that the linked problems of diabetes such as weakness and much more. The body's ability to hold insulin is increased and as a result, the body is able to maintain blood sugar levels.
Composition: Each 750 mg Capsule contains:
Madhunashini Gymnema Sylvestre – 100 mg
Jamun – Syzygium Cumini – 100 mg
Malkangani – Celastrus Paniculatus – 50 mg
Karela – Momordila Charantai – 100 mg
Ashwagandha – Withania Somnifera – 100 mg
Feenugreek – Trigonella Foenum Greucum – 100 mg
Dalchini – Chinnamomum Zeylanicum – 50 mg
Harad – Terminalia Chebula – 50 mg
Vijaysar – Pterocarpus Marsupium – 50 mg
Shilajit – Black Bitumen – 25 mg
Vang Bhasam – Stanoum – 25 mg
Tips To Manage Type 2 Diabetes At Home
Managing any disease or common healthcare issue isn't as easy as it may seem to some individuals. What it asks for is proper attention to be paid towards the due care that is to be done to accomplish the results that one is expecting. There are many ways by adopting which one can get rid of the problem of type 2 diabetes and limiting sugar consumption is the main thing. Plus one can also increase the effectiveness of the results by making slight changes in their lifestyle and the foodstuff that people eat. Have a look at the most widely used home remedies to lower the risk of diabetes symptoms.
Apple cider vinegar is one of the most widely used remedies used to manage type 2 diabetes. There is much evidence that backs it as the top pick for this disease.
One must also try to add more fiber-rich food to their daily diet such as barley, which is one of the most prominently used food items used for managing diabetes.
Aloe vera is also one of the main things that are being used for controlling the increased sugar levels. Its laxative effects are well known for holding the glucose in the pancreas properly.
Fenugreek is a commonly used spice that has been used for centuries for the medicinal benefits that it holds to managing type 2 diabetes. One can soak them overnight and then drink them first thing in the morning.
Conclusion:
All the information given by us in the above article is based on proper research done by our team of experts having ayurvedic backgrounds. One can use them without worrying much about the side effects and both the above-mentioned products are safe for consumption. Treating the problem of diabetes is very important as when it is left untreated, it can worsen over a period of time and cause several serious issues which can't be neglected.