Herbal PCD franchise in Panchkula – At present, herbal products are highly in demand. Many pharma companies provide Ayurvedic products range at affordable rates. Vee Remedies, an authentic Herbal PCD franchise in Panchkula, offer great business deals in all sectors of Panchkula. Our products are available in different dosage formulations like tablets, capsules, juices, syrups, churna, sachets, etc. Our products are launched after several tests and examinations and with full safety measures.
Vee Remedies is the fastest developing Herbal PCD franchise in Panchkula to provide monopoly based services to all the interested people of the city. We have a team of the best pharmacists who keep special care of all the products and formulations and keep them safe from dust, contamination and the outer atmosphere. There are several benefits that we provide to our associates including monopoly rights, free promotional backup, better profit margin, timely delivery, etc.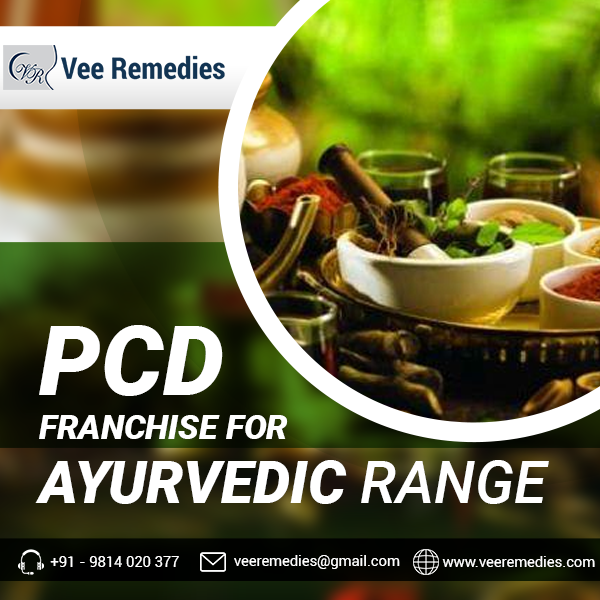 To know more about the company or to get more information about our deals, you can contact us by calling on 9814020377 or you can drop an email at veeremedies@gmail.com.
Leading Ayurvedic Franchise Company in Panchkula – Vee Remedies
The company is widely known for the quality drug range that we offer. We provide herbal franchise business at reasonable investments. Our team of highly experienced and skilled pharmacists ensures the safety of our products in the highly spacious storage warehouses that we own. We have over 200+ associates across the nation and we welcome more people from Panchkula to collaborate with us and establish their own businesses. Several advantages that we offer to our business associates include:
We offer monopoly rights to all our franchise associates so they can work in a less competitive market.
The promotional tools that we offer to our partners help them in enhancing their business and increase their market presence.
Our products are launched in the market after several tests and confirmation as per the GMP and ScheduleM measures.
We provide our products at reasonable rates so they are accessible to all needy patients.
The vast distribution channel of the company enables timely delivery of the products.
Quality Assured Products at Vee Remedies
At Vee Remedies, we offer top-quality at affordable rates. There are herbal juices, laxatives, Ayurvedic blood purifiers, sexual wellness products, herbal oils, Ayurvedic face wash, herbal cough syrups, digestive enzymes, pediatric medications, weight loss pharmaceuticals, and other 100% herbal and Ayurvedic medicines available. The raw extracts used in the production of our products are gathered from the best vendors of the industry. We have hundreds of quality products that we offer to our clients and consumers. The variety of products available at Vee Remedies includes:
Tablets
Churna
Capsules
Herbal Oil
Juices
Sachets
Herbal Powder
Ayurvedic Ointments
Ayurvedic Syrups, etc.
Promotional tools offered by our company
This is one of the important aspects of business which takes a huge amount. Usually, pharma companies leave the cost of promotion on the associates. But at Vee Remedies, we promote our partners using several enticing advertising techniques. We did thorough market research and chose the finest choices for you. Our business employs some of the industry's best marketing minds, all of whom are capable, knowledgeable, and experienced. The variety of promotional tools offered by us includes:
Visual Aid
Product cards
Notepad
Brochures
Working bags
Covers of catch
Visiting cards
Small gift articles
Reminder cards
Diaries
Requirements to collaborate with our company
Ayurvedic products are highly in demand. People of Panchkula are in search of quality products that are available at Vee Remedies via our franchise business. Our company provides Ayurvedic franchise services to all the interested people of the city to invest in this sector. To join hands with our company, there are some certain documents which one requires.
Private Limited Company registration
Tax Identification Number (TIN)
Drug License Number
Goods and Services Tax Number (GST Number)
Vee Remedies is one of the best pharma franchise companies to offer quality products at affordable rates. The company is widely known for the genuine and reliable business deals that we offer. To know more about the company, contact us anytime.
Contact Information
Email: veeremedies@gmail.com
Contact no: +91 9814020377