Herbal Dental Toothpaste for PCD Franchise – India is one of the Fastest growing Dental markets in the world.   Herbal Dental Tooth Paste is the best source of Oral healthcare. The demand for Herbal Dental range is generally increasing with the growing population. Vee Remedies is the Best Pharma Company for Ayurvedic Herbal Dental Toothpaste for PCD Franchise and is engaged in delivering the best services through its products.  Our dental products are manufactured using the best organic Herbal ingredients such as neem, Haldi, long, mint, curcumin, babool, etc. It has multiple properties like antibacterial properties, antiseptic, anti-infective etc, making us the best toothpaste franchise distributors in India.
Vee Remedies focus on the quality, affordability, accessibility, and durability of products. Pure natural herbs are utilized under strict guidelines laid by WHO and GMP. We have ensured that our oral hygiene range meet highest customer satisfaction. They have been carefully composed on 100% natural herbs and ingredients selected from organic sources. Herbal Dental Toothpaste for PCD Franchise is your chance to start or expand your own business at affordable investments. Our associates get to enjoy regular marketing updates, promotional tool support, fast delivery experience, genuine rates etc. It is our promise to deliver the best opportunity in dental drugs for PCD franchise near you.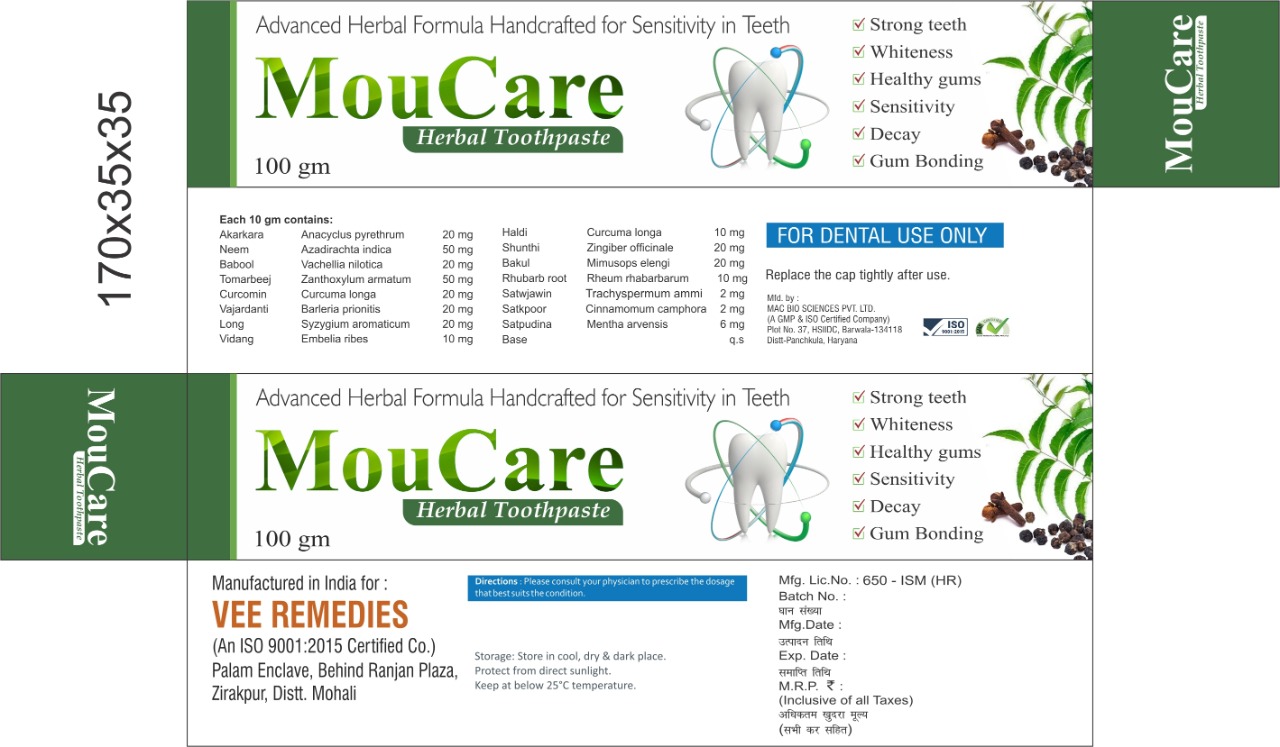 Benefits of using Herbal Dental toothpaste 
Herbal Ayurvedic Dental toothpaste is manufactured using the pure Herbal ingredients which have the best effectivity. The ache in cavities, worn tooth enamel or fillings, gum disease, fractured teeth, or exposed roots, infection in teeth, are some of the issues which are caused in teeth. Moucare Herbal Toothpaste is the top listed toothpaste for the Herbal Franchise range. Output and effective results are seen by the usage of Herbal Dental Toothpaste are worth using our Product. Advantages of using Ayurvedic Dental Toothpaste are as follow:
Neem an active ingredient used in Herbal toothpaste helps in cleaning and reduces building up of plague.
Mint and long freshens your breath and also give natural flavouring and dyes to teeth.
Hydrates silica used in the manufacturing of ayurvedic toothpaste helps in whitening of teeth.
Babool makes your teeth stronger, gums healthier, and also reduces plaque accumulation.
Vidang generally called black pepper is one of the most powerful herbs and static homicidal in Ayurveda.
Curcumin, the essential bioactive substance in turmeric, and has mitigating properties and protects from any kind of chronic pain.
Avail Herbal Dental Tooth Paste Franchise near you
If you want to grab the opportunity in the Herbal Dental Toothpaste range then here is a big opportunity to you. Vee Remedies is allowing you to start your own business in the herbal ayurvedic product range. We ensure you that by distributing our product you will surely get success and have a great profit margin. Below listed are some of the reasons which will make you associate with us:
Best quality assurance of products.
The world-class packaging material used.
Precise delivery of products at a scheduled time.
Most affordable and genuine rates available for herbal products.
Promotional accessories are available for gathering customers.
Monopoly based business served.
Quality Measurement used to manufacture Herbal Dental Toothpaste
Manufacturing of Herbal Dental toothpaste is done with full quality assurance and under certified units of GMP and WHO. guidelines issued by these firms are followed in the manufacturing of Herbal Dental range. The latest techniques are followed in the manufacturing and testing of Herbal dental toothpaste such as SOP, QA/QC analysis, Testing, etc. Dental toothpaste is manufactured under schedule M. Here listing benifits of following quality measurements:
Reducing any rejection of scopes and increasing production efficiency.
Helps in checking any side effects
Increases the durability of products
Reduces leading to a decrease in maintenance cost
Maintain customer satisfaction.
Increase in productivity and overall efficiency.
Why choose Herbal Dental Tooth Paste for PCD Franchise?
With the growing Oral Health problems, people are now wanting a great treatment through Herbal Ayurvedic Products. Herbal Dental toothpaste is highly demanded in the market. This increasing demand is due to the best quality product supplied from our hands. Choosing Herbal Dental toothpaste for Pharma Franchise is a good option for business. Being a low investment business one can have a great profit margin through this. Due to its efficiency and best results, people are demanding Herbal Dental toothpaste more in the market which has created a great scope for PCD Franchises.