Herbal Ayurvedic PCD Franchise in Haryana– Ayurveda is a well-known name in the pharmaceutical industry, as many people prefer to use Ayurvedic treatments over modern medications. Ayurveda, on the other hand, has carved out a significant position in the marketplace and is now competing with other medicines. As a result, in comparison to any other state in India, Haryana is one of those states in India where the majority of people prefer Ayurvedic Medicines. People have been using Ayurveda remedies to restore the entire body, mind, and soul since ancient times. Ayur and Veda are two words that are combined to cure a variety of lifestyle illnesses with natural medicines and ancient methods. Vee Remedies is now offering the best Herbal Ayurvedic PCD Franchise in Haryana so that interested pharma professionals can commence their career in Ayurvedic Medicines.
Vee Remedies is a very well-known company in the Ayurvedic industry, dealing in a variety of herbal products around the country. The company specializes in the production and distribution of high-quality organic products that improve people's lives. Our firm provides DCGI-approved pharmaceuticals that are custom-made in accordance with GMP and ISO guidelines. To ensure that our medicines are created with the highest quality materials, methods, and packaging requirements, we followed international norms. As a result, this is a once-in-a-lifetime opportunity for Haryana citizens to start their own Herbal Ayurvedic PCD Franchise in Haryana. Here pharma professionals can enjoy the exclusive rights of monopoly and free marketing benefits from our end.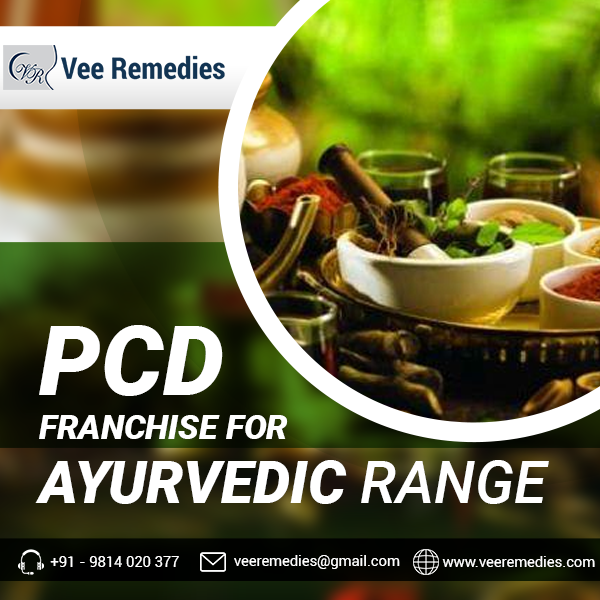 Contact Vee Remedies for authentic Ayurvedic PCD Franchise Business Deals in Haryana and the opportunity to earn more in your area. You can reach us by dialing 9814020377. You can also reach out to us by email at veeremedies@gmail.com.
Best Opportunity to Start a Herbal PCD Franchise in Haryana
When we look at the status of Haryana now, we can see that the majority of the people want to live a herbal and natural lifestyle. Many pharma professionals, such as distributors, market reps, stockists, and entrepreneurs, are interested in starting their own franchise Business in Ayurvedic medicines. Vee Remedies is here to deliver the best ayurvedic PCD franchise to all business seekers in order to meet their needs. Vee Remedies is a company that makes Ayurvedic products using only the highest quality components. Furthermore, all products are manufactured in accordance with the International Quality Standards. For franchising business, we have covered all of Haryana's sites, including:
Karnal
Yamuna Nagar
Panipat
Rohtak
Sonipat
Ambala
Kurukshetra
Gurugram
Panchkula
Faridabad
Hisar
Sirsa
Charki Dadri
Jind
Rewari
kaithal, etcj
Based on Research and Development Herbal Products for Franchise Business
Herbal juices, laxatives, ayurvedic blood purifiers, sexual wellness products, herbal oils, Ayurvedic face wash, herbal cough syrups, digestive enzymes, pediatric medicines, weight loss drugs, and other 100% herbal and ayurvedic medicines are available. Our organization offers Ayurvedic products that are both pure and effective. Our company has the best quality control professionals who monitor every step of the formulation process. Quality is what sets us apart from other herbal pharma companies in Haryana, thus we pay close attention to it.
Juices
Herbal Powder
Churna
Ayurvedic Ointments
Herbal Oil
Tablets
Capsules
Sachets
Ayurvedic Syrups, etc.
Collaborate with Vee Remedies for the Ayurvedic Franchise in Haryana
Vee Remedies, as the premier company, has a strong grasp of the Ayurveda PCD franchise concept. We have assembled a skilled and dedicated team to provide healthcare items to the country. Our research team guarantees a world-class selection of Ayurveda products. Haryana, India's fifth-highest per capita state, makes a significant contribution to the pharmaceutical industry. There are a number of companies that provide the Ayurvedic PCD Franchise. Associating with the Ayurvedic Franchise Company might help you achieve great success. This is the most secure and effective way to enter the Indian Ayurvedic Pharmaceutical Industry. Here are some of the benefits of working in this area.
From our end, we provide the best marketing support to the affiliates.
We manufacture ayurvedic pharmaceuticals that are WHO and GMP-certified.
Our Company obtains more productive policies by shaking hands with each other.
We guarantee that we will give you high-quality products at reasonable and inexpensive pricing.
As the leading firm, we pledge to give on-time delivery to our customers.
Attractive Promotional Backup for Herbal Products
We are a company that provides high-quality items to its customers and excellent service to its business partners. Vee Remedies offers exciting promotional tools such as the ones below. Vee Remedies has been promoting its partners with a variety of appealing promotional tactics. We conducted extensive market research and selected the best options for you. Our firm employs some of the top marketing minds in the industry, all of whom are capable, skilled, and experienced.
visual aid
visiting cards
brochures
diaries
written pads
MR bags
calendars
Catch Covers
Clinical Trails
Bonus Offers, etc.
Contact Information
Email: veeremedies@gmail.com
Contact no: +91 9814020377