Best Herbal Products For Female Cordial– Syclocare and Shwetcare are made from medicinal herbs that have been fermented over time. Vee Remedies is the finest choice for you if you're seeking for high-quality Syclocare and Shwetcare. For Franchise service providers in India, our organisation is the main supplier and marketer of Syclocare and Shwetcare. Vee Remedies is known for its extensive choice of high-quality ayurvedic goods.
Vee Remedies is a renowned ayurvedic company with a reputation for ethical business methods and providing the best Herbal Products for Female Cordial on the market. Ayurvedic medicines from Syclocare and Shwetcare are also available at reasonable prices. In addition, we offer Syclocare and Shwetcare PCD Franchises throughout India.
As a result, if there is a pharma expert who wants to deal in the Syclocare and Shwetcare ranges for the PCD Franchise Business in any part of India, please contact us. Then dial 9814020377 or send an SMS to veeremedies@gmail.com to get in touch with Vee Remedies.
Syclocare and Shwetcare | Overview
As already said. Syclocare and Shwetcare are made from medicinal plants through a fermentation process. Syclocare and Shwetcare are the most effective treatments for menstrual irregularities. This medication is available in the form of a sugar-free syrup. Kalihari, Ulat Kamba, Harmal, Ishwari, Gajar Beej, Ashok Chhal, aloe vera, Dash mool, Shatavar, Amla, Baheda, Haritaki, Lodhra, Savira, Shalmali, Guduchi, Chandan, Sunth, Jatamasi, Pippali, Vasa, etc. are some of the main constituents in these liquid remedies. These substances are all natural and have no negative side effects. We know that Amla and Aloe Vera are the best natural products with no side effects.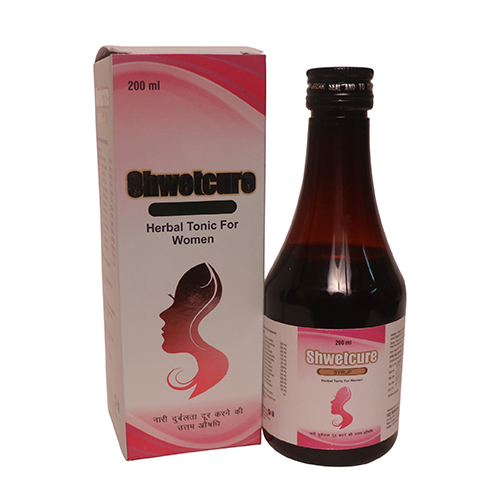 Perks of Syclocare and Shwetcare
Premenstrual syndrome and dysfunctional uterine haemorrhage are treated with Syclocare and Shwetcare Syrup. It aids in the treatment of menstrual irregularities such as heavy bleeding, irregular periods, and stomach cramps. It can be used to increase haemoglobin levels, regulate reproductive function, and treat anaemia caused by uterine diseases. It is also indicated for ladies who suffer from overall weakness. This vitamin can help with premenstrual symptoms and irregular uterine bleeding. Heavy bleeding, irregular periods, and stomach cramps are all alleviated with this treatment. Aids in the treatment of anaemia brought on by uterine issues.
The estrogenic characteristics of the Ashoka Tree help to mend the inner lining of the uterus during menstruation.
Asparagus helps to control the menstrual cycle by balancing hormones.
The Lodh Tree has been shown to help with fertility by controlling ovarian hormones.
The anti-inflammatory and analgesic effects of Malabar Nut help to relieve pain associated with dysmenorrhea (menstrual cramps)
Safety Measurements to take Syclocare and Shwetcare
Take this medicine as your doctor prescribed you
Before using, carefully read the label.
Keep out of direct sunlight and store in a cool, dry location.
Keep it out of the reach of Kids.
Use under the guidance of a physician.
Contact Vee Remedies for the Syclocare and Shwetcare Syrup  for PCD Franchise Business
Vee Remedies exceeds clients' and patients' expectations by providing a high-quality and effective Ayurvedic medicine line. For Ayurvedic Products Franchise Business, we cover both prescription and non-prescription segments and provide the best assistance. There are a lot of Ayurvedic companies out there, but Vee Remedies stands out because of its research and development approach. All of this happens under the watchful eye of the quality assurance team.
To separate the defective products, the company employs the most advanced technologies. Quality is the prime target to start a business and Vee Remedies is the trustworthy herbal company that is dealing with GPL approved drugs and high-quality herbs. Now, the company is providing an affordable opportunity to all pharma experts who want to start a career in ayurvedic medicines such as Syclocare and Shwetcare Syrup. So, if you're interested in joining our organisation, give us a call at 9814020377 or send us an email at veeremedies@gmail.com.