Best Herbal Piles Medicines for PCD Pharma Franchise  – Get quality piles treatment in Ayurveda medicine form at Vee Remedies! Our piles medicines combo is effective in relieving inflamed tissue in the anal canal. It has effective anti-inflammatory and antibiotic properties to treat haemorrhoids (piles bleeding) and fissures.  Made under GMP-WHO, our oral medication for haemorrhoids consists of best herbal Piles Medicines for PCD Franchise. They are made using 100% pure herbs, approved by DCGI and with maximum benefits for the consumer, making it a trusted Ayurvedic herbal piles medicine in India.
People are looking for quality piles and fissure over-the-counter haemorrhoids medicine to ease the inflammation, swelling and bleeding. Vee Remedies offers best herbal piles Medicines for pharma franchise on monopoly basis. Our company welcomes everyone looking for genuine investment startup. We're providing promotional tool and regular marketing updates along with complete assistance 24×7. It is our assurance to provide you genuine business deals near you. To know more, you can call us at +91-9814020377  or email at veeremedies@gmail.com for details.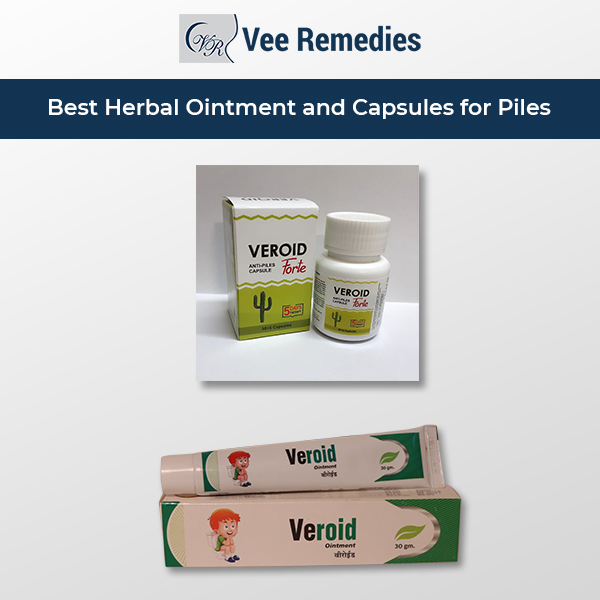 100% Pure Herbs Used in Herbal Ointment and Capsules
Vee Remedies is assuring you with the best formulations used in Herbal Ointment and Capsules. Our company has always assured quality GMP and WHO manufactured products that meet the highest criteria for customer satisfaction. Our pile medicines Veroid is available in 3 ranged – an ointment applicator is available which comes in a tube packaging of 30gm weight and piles capsules and tablets (bottle packaging).  This is quite effective and has given the best results to piles of patients. The herbs used in the manufacturing of these medicines are quite effective. The herbs used in making are sourced from organic sources. We always ensure fresh herbs are used in our medicines to ensure maximum effectivity.
Demand for Hemorrhoids/Piles Herbal Ayurvedic Medicines 
Over 10 million people in India suffer from piles ailments every year. As per Rajiv Gandhi University of Health Sciences, currently, there are an estimated 40,723,288 patients.  Piles are an extremely common sickness that occurs in men or ladies at any age. These are caused because of persistent high weight in the veins, blockage, inordinate stressing during solid discharges. With the growing population, these problems have been seen increasing and people are demanding pure natural herbal products to get rid of these diseases. With millions of new cases adding each year, it has been expected that hemorrhoid therapy demand will increase 23% over the next 20 years. People are now aware that herbal source of medicines are more effective and brings no side effects along with it. This growing demand has become a reason to choose this Herbal Ointment and Capsules for pile range for Pharma Franchise.
Benefits of Using Herbal Ayurvedic Piles Combo
Consequently, Piles occur due to chronic constipation, chronic diarrhea, lifting heavy weights, pregnancy, or straining when passing heavyweight. The size of piles may vary and infection occurs in the anus. These several issues can be resolved using the best hemorrhoid cream and capsules available in Vee Remedies. Some of the advantages of our best Ayurvedic medicine for piles and fissure:
Effective in nature, it instantly reduces itching around the anus.
Stops bleeding from your anus during or after a bowel movement.
Control leakage of stool.
Eliminates painful bowel movements.
Effectively stops the recurrence of hemorrhoids.
Improves bowel movements.
Quality Measurements taken to Manufacture Herbal Piles Medicines
Ayurveda is the science of life. Many people are dependent on Herbal Ayurvedic products for the best usage and effective results. Vee Remedies has come up with a highly professional team that strictly follows the procedure issued by GMP and ISO. Testing of products is sone by our QA/QC Team which is highly dedicated and experienced in producing best results. A daily basis report is generated in which all the analyzation of products is performed. Also systematic approach is followed to give quality driven product to customer. Herbal products available with us are also approved by DCGI. Regulations followed for processing Herbal Ayurvedic products are mentioned below:
Standard operating procedures are followed up for the best effectiveness and efficiency.
QA/QC team of the company is working hard in analyzing quality before the final supply.
We use 100% pure herbs and ayurvedic ingredients.
Standards laid by Ministry of AYUSH for ayurvedic drug manufacturing are strictly followed.
Each batch is carefully tested under observation of experts.
Testing of products and organizing trainings, meetings for better quality, and more product development.
Contact Vee Remedies for Herbal Piles Medicine For PCD Franchise 
We are here working with the prime motive to achieve customer satisfaction through our products. Our qualified and organized team is working on the mutual growth of the company and Pharma Franchises across India. We provide you a genuine business opportunity where you can earn great profit and motive yourself for a better future. Our medicines for piles  pain and fissure has increased in demand and will provide you stable PCD franchise business. Here are listed some reasons which will insist you to be part of our Company:
Monopoly based business
Quick delivery of products
Promotional accessories
Reasonable rates
We provide best tablet for piles bleeding
Huge product folio in herbal range
Contact Information
Name: Vinay Gupta
Address: Palam Enclave, Behind Ranjan Plaza
Zirakpur- 140603, Punjab, India.
Phone Number: +91-9814020377
Email: veeremedies@gmail.com