Best Ayurvedic Brain Tonic Syrup in India – Ayurveda has the best solutions and formulations to provide you with healthy memory. Here at Vee Remedies, we have brought you, people, the Best Ayurvedic Brain Tonic Syrup in India. Because while having a good memory is beneficial to a successful career, having a bad memory and improper brain functioning can cause serious harm to your brain and life.
All you need is mental focus, clarity, and concentration. A herbal brain tonic can also help with memory, reasoning, and other cognitive functions. Finding an ayurvedic tonic that works is, however, difficult. There are a variety of natural brain tonic syrups on the market. Below is the Best Ayurvedic Brain Tonic Syrup in India. 
Here's Top Herbal Brain Tonic Syrup in India
For a happy and healthy life, good mental health is very important. Ayurveda is one of the best ways to boost your memory and have a healthy brain. There are many ayurvedic ways and products to do so and below we have mentioned the best tonic which can help you in the best possible ways. Check out the product and the herbs used in the formulations of the product. 
Memoup Tonic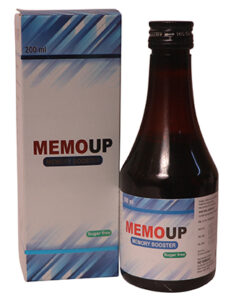 Memoup Syrup is a natural memory enhancer made with only natural herbal ingredients to ensure optimal brain function. This tonic improves mental acuity and concentration. The product is and has been effective in reducing stress levels. It also helps with a variety of ailments caused by brain dysfunction, as well as increasing the iron content of children's bones and strengthening them. It helps with stress and fatigue relief in the brain, as well as memory sharpening.
Vacha: Vacha can help with memory problems that are caused by an imbalance in the Vata dosha. It has Medya (brain tonic) and Vata balancing properties, which help to keep brain functions in check and improve memory.
Brahmi: Brahmi's most notable benefit is that it enhances cognitive abilities and stimulates the mind to improve memory and concentration. It aids in the modification of the activity of certain enzymes involved in the stress response. That is why it aids in the reduction of stress and anxiety.
Shankhpushpi: Shankhpushpi can help to relax the mind and relieve stress and anxiety. Due to its Medya (improves intelligence) property, it also improves memory by acting as a brain tonic. To help with memory and concentration, mix Shankhpushpi powder with warm milk or water.
Jyotishmati: Jyotishmati improves cognitive functions by increasing acetylcholine levels in the brain. The neurotransmitters serotonin, epinephrine, and dopamine are involved in the majority of the effects caused by Jyotishmati. As a result, it is extremely beneficial in the treatment of dementia and memory disorders.
Kushmand: Memory boosting results from Kushmand ghrita were statistically significant. It promotes intelligence (Dhi), memory (Dhriti), and retention power (Smriti). Correcting the disturbance of "Rajas" and "Tamas," promotes the function of "Buddhi" and "Manas."
Ustkdus: Ustkdus is a bitter, hot, and pungent plant. It aids in the reduction of Kapha and Vata in the body, as well as the proper function of the liver. It also aids in the relief of pain, mental exhaustion, depression, bloating, and abdominal pain.
Aloe vera: Aloe vera has the distinct advantage of being a therapeutically effective drug in reducing oxidative damage, and inflammation, increasing vasodilation, treating tumours and neurodegenerative disorders and maintaining general brain health and memory. Aloe has also been shown to have anti-cholinergic and anti-cognitive properties.
Ashwagandha: Ashwagandha has been shown to help people cope with stress.
Stress causes an increase in adrenocorticotropic hormone secretion, which raises cortisol levels in the body. Ashwagandha powder helps to reduce stress and stress-related problems by lowering cortisol levels.
Tips for Boosting Memory Naturally
 Muscle strength is similar to memory strength. It gets stronger the more you use it. But you can't expect to get stronger by lifting the same weight every day. You'll need to keep your mind stimulated at all times. Below are some suggestions and tips to help you improve your mental health.
Consume less sugary foods, as research suggests that people who consume a lot of added sugar regularly may have poorer memories and smaller brain volumes than those who consume less sugar.
The omega-3 fatty acids EPA and DHA are abundant in fish and fish oil supplements. They may aid in the improvement of short-term, working, and episodic memory, particularly in the elderly.
Meditation is beneficial not only to the body but also to the mind. Gray matter in the brain has been shown to increase with meditation. Neuron cell bodies are found in gray matter.
Obesity has been linked to cognitive decline. Maintaining a normal body mass index can help you avoid a slew of problems associated with obesity, including memory loss.
Sleep aids memory consolidation. If you're well-rested, you're also more likely to perform well on memory tests than if you're sleep-deprived.