Best Ayurvedic Antacid Product In India – Stomach-related problems have become a common issue for almost every other individual. Issues such as acid reflux or GERD, indigestion, heartburn, and stomach upset are the ones that are seen most of the time. The product used to relieve all these gut problems is called Antacid and there are various options available on the market for it. But the one being used nowadays is the Best Ayurvedic Antacid Product In India as they are backed by the trust of Ayurveda and ancient science.
The Best Ayurvedic Antacid Product In India is also capable of relieving symptoms of extra gas like feelings of pressure/discomfort in the stomach, belching, and bloating. These gut problems can make the daily life of an individual so bad that affect their lifestyle a lot. That's why one should trust the years of experience that are linked with herbal and ayurvedic medical science. When ignored for a long period of time, it can become worse but to avoid that have a look at the top herbal antacid in India.
Best Ayurvedic Medicine For Gas And Acidity in India 2022
There are a lot of products that are available in the Indian market that promoted themselves as the best antacids in India. But after proper research, people found that the claims that they were making were not up to the mark. That's why keeping those experiences of a good number of people in mind, we have mentioned the highly prescribed antacid syrup in India in the following part.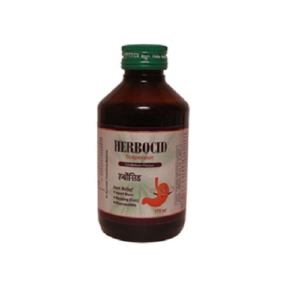 HERBOCID comprises an ayurvedic herbal suspension that is the best natural syrup in India. It is made up of several naturally available herbs that work very well to provide the required relief to its user. Various gut-related problems such as indigestion, flatulence, acidity, gastric issues, acid reflux, GERD, and other related issues like bloating, and pressure in the stomach are effectively solved by its usage. This suspension is a proprietary formulation specially prepared to provide relief from some other issues also such as gastric ulcers and duodenal ulcers. This digestive enzyme is also composed of various herbal extracts that are derived by ayurvedic pharma experts having years of experience in the pharma sector. 
Composition: 
Glycyrrhiza Glabra (Mulethi) Root – It has glycyrrhizin and carbenoxolone that makes it an effective remedy for constipation, acidity, heartburn, stomach discomfort, and other gut issues. 
Operculina Turpethum (Trivrit) Root – Trivrit is an important herb used in various forms to get relief from various kinds of abdominal disorders as it helps to ease the stomach distension.
Eclipta Alba (Bhringraj) Whole Plant – It is used in order to treat indigestion, constipation, loss of appetite, and some more gut-related issues.
Ocimum Sanctum (Tulsi) Whole Plant – This herbal plant is capable of curing gut issues such as stomach ulcers, gastric disorders, and even menstrual cramps. The extra acid is also neutralized by it.
Trichosanthes Dioica (Parval) Root – Being a vegetable good for digestion it is loaded with a good amount of fiber that improves digestion. Gastrointestinal and some liver issues are also solved by its usage.
Cuminum Cyminum (Jeera) Seed – It is a very beneficial herb for stomach health and it helps to improve the overall digestive capability of the individual. Compounds such as carbohydrates, glucose, and fat breaking enzymes are secreted by it that improve the metabolism.
Tinospora Cordifolia (Guduchi) Stem – Guduchi is one of the best herbs that are being used to treat a wide range of diseases. Common and severe stomach issues are also solved by it. 
Zingiber Officinale (Sonth) Rhizome – It is an effective cure for various kinds of gut issues like indigestion and its related problems which consist of stomach pain, excess gas, and much more. 
Terminalia (Belerica Bahera) Fruit – They are very helpful for treating ulcers due to their antiulcer activity and it contains some constituents that reduce the gastric acid and then it prevents the linked issues.
Terminalia Chebula (Harad) Fruit – It improves the digestion that helps to form a healthy intestinal environment and it also increases the absorption of nutrients from the food one may be eating.
Emblica Officinalis (Amla) Fruit – This fruit is very rich in powerful antioxidant properties that are rich in vitamin C and fiber also along with high water contents. It also helps in the detoxification of liver and kidneys.
Benefits:
Provides relief from various stomach disorders very effectively.
Also protects the gastric flora and improves appetite.
Reduces the acid secretion in the stomach.
Provides long-lasting relief from acidity.
Helps in the easy passage of gas.
Also controls the recurrence of acidity.
Side Effects:
Being a herbal formulation of various natural and ayurvedic ingredients, this suspension is free from any kind of side effects when taken as per the description of the concerned healthcare expert.
Dosage and Storage:
2-3 teaspoons should be taken after having a meal, two times a day. This suspension must be kept at a cool and dry place that is away from direct sunlight. 
Conclusion:
In this blog, we explained the best natural antacid in India, its benefits, and how it can be used. We hope that this was helpful to you in some manner in order to understand more about the problem of indigestion, acidity, and stomach problems.